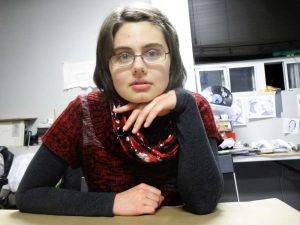 I would like to introduce Lakota who has been a very instrumental community member!
So far at hack613 she has learned to use CNC machines, laser, arduino and other skills. She has even fixed one of the CNC machines! She's a great example of a person who contributes to the community!
She has helped facilitate meetups including managing the door and phone and general facility management.   She's also helped with workshops with promotion and logistics. She also made a donation jar which helped raise money for supplies! She's participated in not just the meetups that she facilitated but has a presence at our other pop-ups including field trips to Green Drinks Ottawa, ImagineSpace, Ottawa Impact Hub and Drawing at Atomic!
She's got some cool projects including a rollybot, four servo robot, computer art, block printing and much more!